Students from the Mount Kenya University School of Nursing took part in the Jigger Staircase Relay 2014 at Kenyatta International Conference Centre last weekend.The university donated Ksh300,000 to Ahadi Kenya Trust, the non-governmental organization involved in fighting the menace.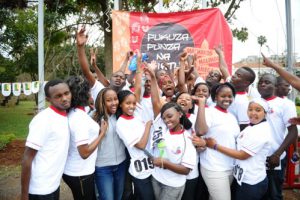 Several corporate organisations participated in the fun event that also doubled up as a fundraiser. "As an institution, participation in such events reflects our strong belief in having a vibrant corporate social responsibility policy," said the MKU marketing director Boniface Murigi. "It also gives our students from the School of Nursing exposure."
Jiggers afflict hundreds of people in Kenya, mostly the rural aged and poor. Ahadi Kenya Trust routinely organizes medical camps where those with jiggers are treated at no cost. The MKU Nursing School students have been actively participating in these camps.