Introduction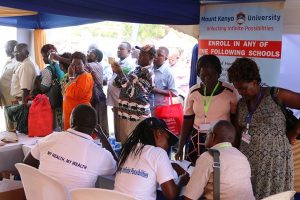 KEPSHA is an association comprising all primary school head teachers in Kenya. The association usually hold annual conference each year and this year it was held in Mombasa. Mount Kenya University directorate of marketing and branding participated as exhibitors. The team was joined by School of Nursing lecturers and students.  Their main mandate was to screen for high blood pressure, diabetes and to provide nutritional health status assessment. The team served approximately 3000 clients from different Counties for a period of one week.
Activities/Observations
The main activities at the medical camp was as follows
Nutritional status assessment
Blood sugar monitoring
Blood pressure screening
Health education
The medical services were highly appreciated by all and really commended the University for the Corporate Social Responsibility (CRS).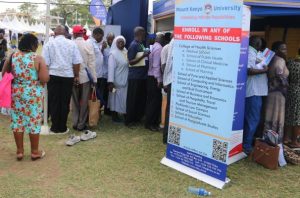 Lessons Learnt
There was good team work
The community lacked appropriate knowledge on Hypertension and Diabetes but they were ready to learn hence CRS should be done more often
It was a good opportunity for students as they were able to showcase their skills and competencies
Report prepared by Elizabeth Ndungu, School of Nursing